This coming week marks two years since releasing Heaven and Earth: Scripture Songs for the Old and New.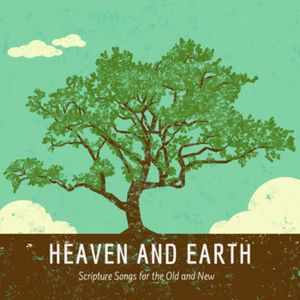 This album was the catalyst for converting me from writer-dabbler to writer-producer. Why? Because it was made for 
1. A specific group of people 
2. with a clear objective 
3. and deadlines. 
The songs were written to meet an ordinary, local objective: give the kids in church a singable, enjoyable way to remember truths of Scripture during Sunday children's ministry. Each song had a deadline, well defined lyrics, and specific audience — all great ingredients for well cooked music. 
I loved the fact that these songs were put to use right away serving a group of very real families, recording or no recording. But I believed that the songs could benefit a larger audience, so even though I didn't have a budget for a pro studio or promotion, I started where I was and tried to record the songs myself. 
Late in the process Derryck and Kellan came along and doubled the album quality. But, the final mixes were still based on an amateur recording process. Production shortcomings show well enough that it wouldn't have made sense to use a promotional budget even if there had been one. 
Nevertheless, it's been very rewarding to know friends and family have repeatedly used the music in their own homes. And it's heartwarming whenever complete strangers download, stream, and save it. Perhaps most gratifying of all: my own daughter, who obligingly sang on the album and heard these songs more than anyone besides myself, still likes them. Honestly, I wasn't counting on it! 
According to Spotify, the most-streamed track is "A New Commandment (Children's Version)." 
The most-saved track is "This Is Love." 
One of my top favorites is one of the least streamed! I think I can tell why. The intro is too long and tinny and the vocal performance is wanting. But as a composition I think it's one of the strongest songs. I especially love the surprising chorus harmony that begins at 1:34. 
I have to give a special mention to "Children and Fathers." It's an instance where an uplifting melody and gifted voice (thank you, Kellan) serves the heart of Scripture, helping us feel that God's commandments aren't mundane and burdensome, but life-giving. 
In closing, I have to say thank you. Some of you have been following this Vandalia thing ever since these Scripture songs were released. Thank you. The words on the original Bandcamp album site still apply, so I'll end this post with them:
Thank you to KELLAN GASH for elevating tracks 1, 2, 4, 5, 6, and 9 with your voice. I could not have produced this album without you. 
Thank you to MEG for encouraging other kids to jump in by lending your voice on the children's versions of tracks 1, 2, 5, and 7. 
Thank you to DERRYCK BIRT for sharing your mixing expertise. I believe your contribution doubled the quality of this production. 
Thank you to JACOB for admiring the fireflies. Thank you for being, ever always, my best friend. 
Thank you to the families of Frederick, Maryland, for helping me write these songs in the first place. They are dedicated to you.
P.S. All these songs can still be downloaded here on the website or streamed on the regular music platforms.