A few weeks ago I suggested some ways to encourage a music-making culture in the family. Around that time, daughter and I were in search of a new book to read out loud. I resorted to this grade-by-grade reading list and settled on The Story of the Trapp Family Singers by Maria Augusta Trapp. The Trapp Family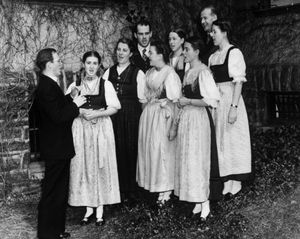 Singers, as you likely know, were the real Austrian family that inspired Rodgers and Hammerstein's The Sound of Music. 
We were highly entertained. The original Maria had even more pluck and spunk than the Julie Andrews version, and her story-telling shows it. But I also noticed that the Trapp family story confirmed some of my hunches about what it takes to develop a home practice of music. 
When Maria first came to work for the von Trapps, they lived in Salzburg, Austria. Now, Salzburg is the birthplace of Mozart and has a long, prestigious musical tradition. It's only three hours from Vienna, historically a musical capital of the world and working home to many world-class composers, including Haydn, Beethoven, Verdi, Brahms, and Strauss. The von Trapps lived on fertile soil for music education. Indeed, the children had already had some training by the time Maria came. 
But how did they become a family that sang together, eventually doing it well enough to become a touring act? 
First, they used music for recreation. They played volleyball, went mountain climbing, and sang—for hours and for fun. 
Second, they started with what they knew. When Maria first took up her guitar, she asked, "What songs do you know, children?"  "'Silent Night,'" little Johanna stated truthfully." (It was not Christmas time.) "The others giggled, but I had started already…. Then I put my guitar down and said: 'Now let's think hard what other songs you remember.'" 
Third, they used organic opportunities to sing for the occasion. They sang Advent songs and Christmas carols when 'twas the season. When Maria safely delivered her first baby, she heard a chorus break out from downstairs of Bach's "Now Thank We All Our God." (This happened again with her third baby, startling the American doctor!) 
Fourth, they accepted instruction. When the von Trapps lost most of their wealth in a bank failure, they rented rooms to boarders as a source of income, even installing a chapel so they could host a priest and students of the Catholic University. One day a visiting priest named Father Franz Wasner heard them sing. "'You really sang quite well this morning, but…' and he explained in a few words several important things to us, and right then and there at the breakfast table, made us repeat a motet, conducting it from where he was sitting." 
Father Wasner was an accomplished musician and music enthusiast, and he remained with the family and elevated their singing into a serious class act, so that one day, as they were minding their own business, singing outside just for the fun of it, they were overheard by the famous soprano Lotte Lehman. "You simply have gold in your throats!" she gushed. "Tomorrow is the festival for group singing. You have to take part in that contest. You simply have to!" 
And they did. They had no idea they were casting bread upon the waters. They had no idea their singing would be their ticket to refuge when the Nazis overtook their homeland. They were just singing for fun, beauty, and to be together. 
---
Post Scriptum 
A shout-out to Benjamin Mallinak for his Autumn playlist! Made my day to see the likes of "September" and "Murphy Farm" alongside Josh Garrels, Adam Young, and the Avett Brothers.
Photo: Trapp Family Singers-Metropolitan Music Bureau, New York. Photo by Larry Gordon.