A new single from Vandalia River released today wherever you listen to music. "September" is a work for piano and cello.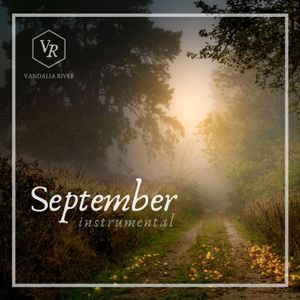 Listen to "September" on your preferred music service.
Nine years ago, we finally got a home big enough for a piano. It meant kicking the dining table out of the dining room, but we had a piano again. It was also a time of introducing the world to our toddler and, along the way, re-discovering it for ourselves. We went apple-picking for the first time. We made a color book of fallen leaves. We found poetry for the season. One such poem was "September" by John Updike: "The breezes taste / Of apple peel. / The air is full / Of smells to feel."  
That poem found its way into a simple melody on the piano. It only used three chords, but its thick resonance hooked us. This bit of music came out again every year with fast and slow variations, and sometimes Jacob would take a seat with his cello and work something out to go with the piano.  
Meanwhile, our toddler became less littler by the minute. Autumn would come around again and find her in a bigger size of rubber boots, sailing walnut rind boats in the short-lived creeks of a gentle fall rain.  
We love every season, but none cuts through the memories so sharply as the sensations of autumn—its crispness, its woodsmoke, its harvest. "September" became a perennial soundtrack for the sights, sounds, and smells of fall.  
This year, it was time to share "September" with you.  
This recording is a blend of old and new, organic and atmospheric. You hear the tones of the same piano that took over our dining room all those years ago. Today, it sits more comfortably in our living room, where it was recorded this summer. 
Jay Arrington from Greenbriar Studio played cello. I told Jay, "I want this song to be a soundtrack for the magic light of autumn." Anyone who listens to the final record will know he got the point. The cello is magical. 
Maryland-based mixing engineer Daniel Busche glued all the pieces together and enhanced the whole. Without a good mix, you can't hear a good performance, much less a good song. Daniel made sure "September" shined.
It was a joy to see this domestic soundtrack come to fullness in the recording process. I hope you like it.