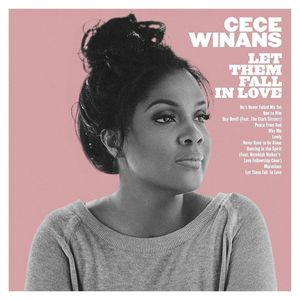 I was three years late to the party. Fortunately, the music's still going on.
Let Them Fall in Love (2017) was Cece Winans's first full length studio album in ten years. Her career as a gospel singer had been long established, of course, with eight Grammy awards and induction into the Gospel Music Hall of Fame. But the last time I had personally noticed her work was childhood, when the CD changer in my family's living room cycled through the records she made with her brother Bebe Winans. 
So when Andrew Osenga said this recent release was "easily" his favorite album from the last five years, it was time to hear it for myself. 
Before I heard it twice I had already told five other people about it. 
Musically, it's something of a throwback album; the descriptor "Motown" is all over other reviews. But as others have observed, it synthesizes some diverse strands: besides the retro Motown feel, there's gospel Pentecostalism and even a cover of Kris Kristofferson's country staple, "Why Me?"* 
Altogether the record is an upbeat, robust departure from the smoother, breathier sound Cece is known for. After years of listening to a good deal of indie pop-alternative music, I was reminded that Cece's vocal skill is simply in a class of its own. 
But that observation comes after reflection. The first thing that struck me about the album was not her voice or the arrangements. It was the lyric. The words went straight to my heart. And I think it was because the words, though capable of summoning many kinds of people, were words for a church kid like me. That's because they were mostly written by a church kid--Cece's son, Alvin Love III. 
Alvin grew up embedded in church life, yet after college he felt the need to discover himself apart from his family and faith. He went to the farthest English-speaking city he could think of—from Nashville to Melbourne, Australia—where his folks didn't know anybody who could hook him into church meetings. 
But Melbourne wasn't too far for the Spirit, and in a Melbourne church on his first morning in Australia his heart was revived to the Lord. He carried that revival back to Nashville and in a short period of time wrote the songs now on this album. He's told the story many times, but I heard it only recently on Andrew Osenga's Pivot podcast. 
The first track is my personal favorite: "He's Never Failed Me Yet." 
When I was a child, I did childish things 
My life was church and all it brings 
I'd always hear the old folks sing 
"He's never failed me yet!" … 
With years of life came test and trial 
And nights when tears replaced the smile 
Though God was right there all the while 
My soul was not at rest 
But I lived to tell that I made it through 
So instead of singing 'bout the blues 
I bring you news to encourage you 
He's never failed me yet 
I want to expand on how these words fit me as a church kid. But it's almost 7:30 a.m., my son is awake, and I've run out of time to write an autobiography. I'll just highlight a few more songs. Then you just need to listen to the whole thing yourself. 
"Run to Him"
I heard of His name in stories 
And Sunday song 
But 
My image of Him was distant 
My image was wrong 
Turns out he's much closer 
And oh so deep 
My faith in Him so much bolder 
My direction is clear 
"Lowly"
Lay down yourself young man 
Let out some air oh won't you boy 
God's got your blessing 
But you got to come down to get it 
The high is for the lowly ...
Unless you come as a little child 
You'll never see his face 
His favor goes to the meek and mild 
For them he's made a place 
So consider today the best one 
For the truth has met your ear 
If you want to be a blessed one 
The word has made it clear 
Finally, the title cut, "Let Them Fall in Love." Let who fall in love? 
If they can't see 
How will they turn 
If they can't hear 
How will they learn 
Touch their eyes 
Bless their lives 
Hear this prayer 
Hear my cry 
Father let them fall in love with you 
Please forgive them too 
For they know not what they do 
Let them fall in love with you 
The heart of this song is beautiful. It's an earnest plea from love for friends and neighbors to know the living God. This longing can be a hard one for church kids. We can feel rational pressure to share the gospel; we mentally understand its importance; but we can get over focused on how weird we already are. To close the album with this wonderful prayer is a wonderful reset. 
If you haven't heard this record before, I hope it blesses at least a few of you.
*Cece's cover reminded my dad of his dropped-out-of-college-running-from-God days. He first heard "Why Me?" in that time of life on a diner jukebox. He would play it every time he went there.