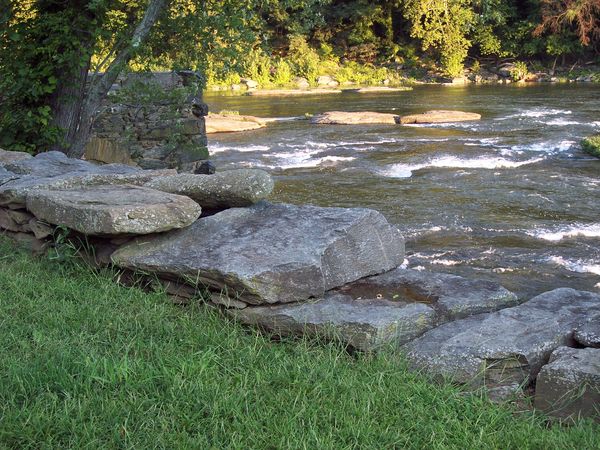 Once upon a time, not so long ago, free spirits could walk to the edge of the cotton factory ruins on the Shenandoah River. These are square-cornered stone walls two or three feet wide with a drop of, oh, ten feet or more into the shallow water. These walls once begged to be walked, but today a spit rail fence is in the way.
The fence wasn't there in 2007 when I followed Jacob to the edge of the wall. We sat down, our legs dangling over the river. "It's like a river glorious, Rebekah," he said. He was happy in his resolve to ask me in a few minutes to marry him. He did ask, I did whisper "yes," and we did get giddy. 
Then we walked up the steep steps past Jefferson Rock to almost the highest part of the town of Harpers Ferry. We sat down with the sunset behind us and the mountain view in front. At our feet, a cemetery cascaded downhill. What is better, I thought, than to consider a graveyard after you've pledged your life to someone? 
We were happy but conscious of the secrets of the future, conscious that no one makes it out alive, no one makes it through untroubled. What would our troubles be? 
One of Wendell Berry's characters says, "The mercy of the world is you don't know what's going to happen." That's a mercy indeed that should be quietly accepted. Since the day we got engaged we have experienced much good, but also enough bad that one could consider the words of the hymn Jacob quoted and get cynical. 
"Like a river glorious is God's perfect peace." 
And it would be right to be cynical if the "peace" preached by the hymn was a mere inner zenlike tranquility. But God's peace isn't just an inner peace; it's an outer peace with God. It's an objective reality that happens when we are brought into his family through the work of Christ. It's an increasing wholeness as our lives align with what is good and right. 
The Lord promised - promised - that in this world we would have trouble. But, "take heart," he said, "I have overcome the world." The mercy of the world is one thing. God's mercy is so much more.
Twelve years ago, that giddy young couple sat near the confluence of two rivers as they began the confluence of their two lives. And ever since then they have been learning to hope in the confluence of God's sovereign and good way with the troubled waters of life. 
These thoughts are behind a piano composition called "The Confluence," which uses a theme from "Like a River Glorious." Though it is instrumental on the record, one of the highlights of my year was to hear Chris and Jenna Badeker from Wild Harbors bring a lyrical version of mine to life. It was a message for that young, inexperienced couple that sat on the stones twelve years ago; and it was a word for the older, weathered couple that lives today.
Come now, let us test the waters: let us feel the cold; let us feel the cold and the rushing strength... Let us take the life we can't choose to make.
I would like to share a video of that rendition, as well as video of the five other pieces, as a thank you for pre-saving the album on Spotify (or pre-ordering the CD). Pre-saving tells Spotify that the music matters to you. Of course, not all music is for everyone - I get that - but if you like what you are hearing, this is for you. 
Thanks for reading today.