You might know Twila Paris's song "The Joy of the Lord." 
The joy of the Lord 
Will be my strength 
I will not falter 
I will not faint 
He is my shepherd 
I am not afraid 
The joy of the Lord is my strength 
The original context of that last phrase is surprising. It shows up in the book of Nehemiah, in which former exiles start rebuilding Jerusalem. Facing opposition within and without, they finish restoring the wall. Then they gather to listen to and understand the reading of the Law, and "all the people wept as they heard the words of the Law" (Neh. 8:9). 
Then what? A seven-days' fast and more mourning? No! They're actually told to stop crying. "Go your way," they are commanded. "Eat the fat and drink sweet wine and send portions to anyone who has nothing ready, for this day is holy to our Lord. And do not be grieved, for the joy of the Lord is your strength" (Neh. 8:10). 
This moment has come after many years of grief, acts of repentance, and works of rebuilding. There's still much to do, and Jerusalem is nothing like it used to be. But now the Lord is confirming his mercy and faithfulness and telling them it's okay to celebrate with joy. In fact, it's inappropriate not to do so. 
We are in a radically different time, place, and context than those former exiles, but I think there's something in Nehemiah 8:10 for us. An older friend once observed that she needed our holidays to remember, amidst the weight of life's cares, that we have reason to celebrate. Holidays like Thanksgiving and Christmas can help us reflect and rejoice that yes—God is good; we have much to be thankful for; and it's right to celebrate him and his gifts. 
For Thanksgiving in particular, I like the 19th-century hymn "Come, Ye Thankful People, Come." It's a season-specific call to gratitude for the here and now, while also helping us look forward to the permanent home we hope for. 
Next week, we might sing one or both of these hymns on Thanksgiving. Here's a lead sheet for "Come, Ye Thankful People, Come." I tell the printer to print two to a sheet so I can cut and place as part of the table settings or just hand out. Use off-white card stock to up the nice factor. 
You are welcome to download it for yourself.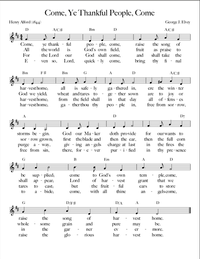 And video for both songs:
Have a truly blessed Thanksgiving. 
---
Post Scriptum
This is one of my favorite playlists, especially for this time of year. American Foliage is a mostly instrumental mix that favors the harmonic strains of Appalachia with some fresh interpretations by current composers. Often plaintive, sometimes dancing, always beautiful.