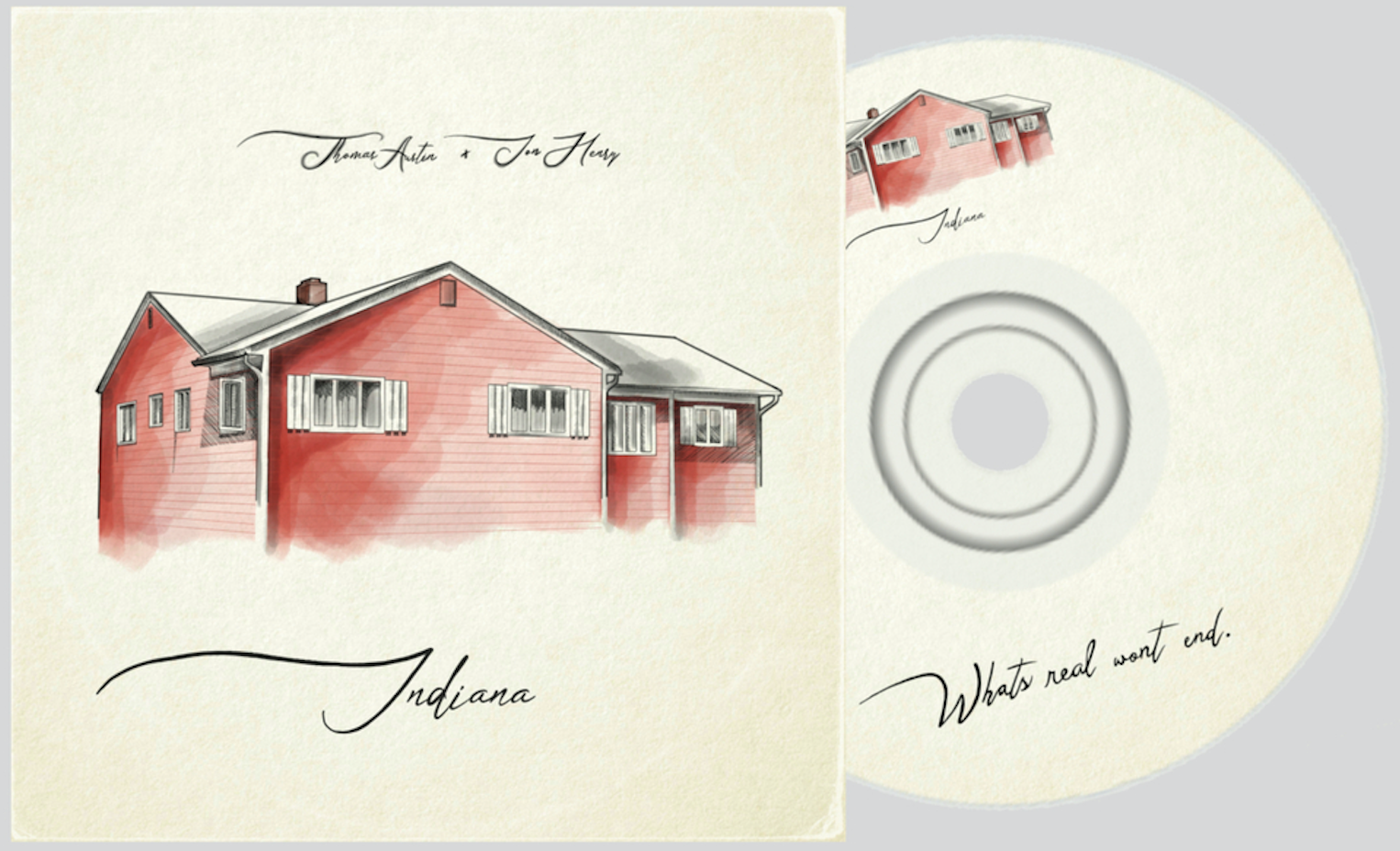 I'm still testing out this analogy, but I often think that life is like a vine. Beauty - the delight and interpretation we derive from life - is the wine, extracted from the vine in a process of violence and stillness. Good art is a vessel that can carry the beauty to the consumer. It can be ornamented like a royal goblet or plain like a Baptist communion cup as long as there is something inside.
I love it when people use their art to capture the meaning and beauty close to home, from the people they're close to and the circumstances they walk through. This is what singer-songwriter brothers from Maryland have just done with their new EP, Indiana. 
Jon Anderson has long loved and explored songwriting even though he's currently occupied full-time in another field. Tom Anderson is a senior songwriting student at Belmont University in Nashville. Growing up, Christmastime meant going to their grandparents' home in Indiana, Pennsylvania. But that changed when dementia overtook their grandmother, leading the family to auction off their house and belongings. Visits now had to take place in a nursing home. 
This process brought a profound sense of not just loss, but losing, a process they're still experiencing. Tom and Jon were moved to respond in song, and that turned into the Indiana EP, a joint four-song project that was just released in full online today. They write deeply and introduce the music on the album site. 
They've also taken some time to answer a few questions I had for them. 
---
When did you start writing songs, and how did you start sharing your songs? 
Jon: We've both been writing songs since we were kids. I think it started a little more in earnest when I got my first guitar in high school. Most of the songs from those years were pretty bad, though - typical teen angst and clichés were the dominant themes. 
I think the first time I ever played a song I'd written in public was at a high school benefit concert. Lyrically, it was pretty close to "Friday" by Rebecca Black. But people were encouraging about it, anyway.
Tom: I started writing a few years after Jon. I wanted in on the fun, but didn't really take it seriously until college. I didn't really share my music until a few years ago when I recorded some lame high-school songs and put them on the internet. Now that I'm a songwriting major and have to regularly play in front of people, I'm getting into performing a little more.
It sounds like the first Indiana songs were almost reflexive ways you responded to the situation. Is that accurate? 
Tom: Yeah, that sounds right. An artist Jon and I love (Tyson Motsenbocker) had just released an EP (Almira) that took a small town I'd never heard of and made it come alive. I thought it had a really special way of making people feel the things he felt without really talking about himself, and I wanted to write a song that did the same thing. I wrote "Indiana" in like twenty minutes the next day. 
"Spring" was a little different, in that I tried to write the last song for the EP and failed a few times before it finally came. But when it did come, it came without much hard work, like I was just dusting off a song that had already been written for me and to me. Those moments are cool.
Jon: I wrote "Restore" (which ended up being the third song on the EP) after visiting my grandparents for the first time in the nursing home. It was a tough visit, seeing them in that context after years of visiting them in their home. When I got back, I literally sat down and cried, and then almost had to write the song. 
It's the fastest I've ever written a song - it all came out in about half an hour, and there was very little thinking on my part. 
It's one thing to write songs for yourself and your family; it's a whole other thing to take them to the studio. What moved you to develop a four-song EP? 
Jon: We'd each been impacted by watching our grandparents deal with my grandma's dementia, and we'd each written a song in reaction to that experience. From there, we kind of sat down and decided that we wanted to make a project that would honor them. 
I'm a big proponent of intentionally giving art context. More context allows for more meaning to be conveyed, I think - maybe not always, but often. 
Like, an album can have more depth to it than a three-minute song and a novel can offer a deeper narrative than a tweet. Neither of us had ever made a cohesive project before; we'd only written single songs. So when we had two related songs to start, it felt right to create more context to tell the story well.
How did you go about the recording process? 
Jon: We were in the studio together as much as we could be, but also did some solo work, too, since Tom goes to school in Nashville. Actually, Tom recorded most of the final song, "Spring", down there, barring a few vocal parts. 
Other than that, we worked with our friend, Dan Busche, at his studio in Myersville. Dan rocks.
Tom: We knew we wanted it to sound real, so we didn't overproduce it with thousand-track sessions, and I don't think we used midi for anything besides a background pad and a few bass lines. We wanted the bones of the songs to be the focus, so we just played it safe with guitars, piano, kit, bass, and vocals.
Are there other songwriting goals you have for the next year that you're willing to share? 
Tom: Aw man, here I am just answering these questions and now I have to think about the future. 
I don't really have any songwriting goals, besides write some songs. Going to school for songwriting has made me overthink the process, and I've really slowed down my production over the past few years. I have a bunch of songs that I never demoed, so maybe I'll try to get into the studio again to clear the slate before I write too many more.
Jon: Personally, I want to write something that's fun. This project was super fulfilling and also felt super heavy. I want to do something a little lighter in 2019.
What is the best way for folks to follow your music? 
Jon: Go to theindianaep.com and enter your email. There won't be too many updates on this project, but we'll give you the heads-up on what's coming next for each of us.
Tom: Jon and I are both on Spotify and Apple Music, under Jon Henry and Thomas Austin (Anderson is a common last name, so we use our middle names to distinguish ourselves and sound cooler than we really are).
---
Indiana by Thomas Austin and Jon Henry is available online (as singles) as well as on a brand new CD, which you can order here. (As of this posting the site says CDs are for pre-order - but actually they do exist now!) All profits go to the Lewy Body Dementia Association. 
In conclusion, I'll leave you with the final song on the EP, released just this morning.