Daughter and I have listened to a bunch of Classics for Kids episodes. I almost skipped the series on John Philip Sousa, though, because he is a victim of his own success. 
Music has many such victims. You know you're one of them if your composition ends up in a Looney Tunes episode. (This happened to Rossini, Wagner, and Liszt.) 
And you know you're one of them if pop culture puts some pointless words about ducks to your most famous composition. That's what happened to Sousa and his "Stars and Stripes Forever." 
Be kind to your web-footed friends, 
For a duck may be somebody's mother. 
Be kind to your friends in the swamp, 
Where the weather is very, very damp, 
Now you may think that this is the end, 
Well it is! 
So I wasn't in the mood for Sousa's blaring brass which, by my lifetime, seemed overplayed. I listened anyway - and learned that Sousa was much more than blaring brass.
John Philip Sousa (1854-1932) knew from childhood he was music-bound. His dad knew it, too, although a difference of opinion arose when he discovered his son's secret plan to join the circus. Dad reacted by enlisting him, at age thirteen, in the United States Marines as a band apprentice.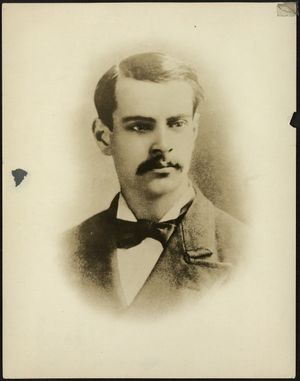 The Marine Band did not have the sterling reputation it has today. That's because it would take Sousa to give it that reputation. He became its leader and improved its discipline, literature, and performance quality and turned it into a touring group. Over his lifetime, Sousa would conduct the President's Own Band for five U.S. presidents and tour with his own sixty-piece Sousa Band across the world. Altogether he led something like 14,000 public performances. 
Sousa is considered to be America's first hitmaker and internationally renowned composer. The man never struggled for a new theme. He published 136 marches and well over a hundred other types of works. 
His biggest hit arose from a poignant moment. He had been vacationing in Europe - 1896 spring-loaded Europe, when the British Empire oversaw a quarter of the world, a kaiser ruled Prussia, and Russia had a czar. Trench warfare, NATO, and the European Union all lay in the pitch black future. After traveling between various European flags, Sousa learned that his manager had suddenly died back home, so he boarded a ship to New York. 
"Here came one of the most vivid incidents of my career," Sousa writes in his autobiography, Marching Along:
As the vessel steamed out of the harbor I was pacing the deck, absorbed in thoughts of my manager's death and the many duties and decisions which awaited me in New York. Suddenly, I began to sense the rhythmic beat of a band playing within my brain. I kept on ceaselessly, playing, playing, playing. Throughout the whole tense voyage, that imaginary band continued to unfold the same themes, echoing and re-echoing the most distinct melody…. When we reached shore, I set down the measures that my brain-band had been playing for me, and not a note of it has ever been changed.
That theme became his number one march and, 101 years later, recognized by Congress as America's National March: "The Stars and Stripe Forever."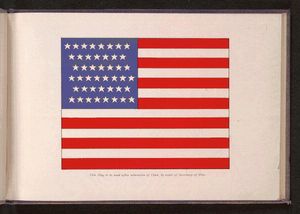 You've heard parts of this march a million times. But have you heard it all, all together? The soaring opening strain? The way the North, South and West are represented respectively by the main theme, piccolo flute, and brass section? 
This march honors the American flag. And the fact that Sousa wrote it is totally fitting. Sousa began music lessons the very same year a war broke out that threatened to tear eleven stars off that banner. In his autobiography, he writes that Washington, D.C., the place of his upbringing, was "in those Civil War days, an armed camp, and there were bands galore. Strange is the boy who doesn't love a band!" Sousa's attachment to band music began in the context of preserving what became the subject of his biggest hit. 
When that war erupted, the Stars and Stripes stood for unity. And despite all the wrong bound up in northern attitudes, the record is clear that it stood for freedom, too. 
That cloth has a poisoned reputation for many today. So much could be said, and 99.99999% won't be said here. As a Christian, I firmly believe my citizenship is in heaven, and no earthly nation can be expected to be ultimately anything but a province of Babylon. But, dissertations could be written on the peculiar expression of good, justice, and freedom here in the United States. And, I think G. K. Chesterton makes a reasonable point that loving all humanity starts with loving those who are near to you - your own family, your own country.
Not with a blind love; not with a love-at-all-costs; but with a love that can labor for and celebrate the good in your land. 
That's why tomorrow the Hall house will eat fried chicken and cherries jubilee and shoot whatever firecrackers we're able to buy later today. I just might foist a Sousa march on the family, too. 
Regardless, we're eating Sousa's favorite meal tonight: spaghetti and meatballs. 
Here's the recipe, which was originally printed in the Chicago Herald on July 23, 1916 (I don't have access to the original archive, but this recipe has appeared in print and online; the following is copied from a Facebook page).
Sauce: One quart can of tomatoes. Put in kettle on top of stove, simmer or let boil slowly for one and a half hours. Add pepper, salt, two onions cut in fine slices, four allspice and four cloves. The cloves and allspice to be added after it starts to boil. 
After two and a half hours add the meatballs. 
Pelotas (meat balls): Two pounds chopped beef; add one onion, chopped fine, two cups bread crumbs, a little parsley, salt and pepper. Make into meat balls about the size of a plum. Put into sauce and cook slowly one and one-half hours. This makes fully three hours' slow boiling for the sauce. 
To sauce, add three bay leaves one hour before taking off the stove. 
Spaghetti: Use a package or a pound of spaghetti; not macaroni. Have a large pot of boiling water with about one tablespoonful of salt. Slide the spaghetti into the water. Do not break it. Boil exactly twenty minutes. Must be tender, not tough nor doughy. 
Serve spaghetti on large platter, pouring tomato sauce over it. Serve pelotas on smaller platter, allowing a small quantity of sauce to remain on them. Serve grated Parmesan cheese on side. Use a piece of cheese to grate, not bottled cheese. 
And per Hall family tradition: Cherries Jubilee 
2 C fresh cherries, stemmed and pitted 
3/4 C water 
3 T sugar 
1 T cornstarch 
1/3 C brandy 
Vanilla ice cream 
Cook cherries in water and sugar for 5-10 minutes. Dissolve the cornstarch in 1 T cool water, then stir into the cherries and cook a couple more minutes. Gently heat the brandy, pour over the cherries, and light with a match. Pour flaming cherries over the ice cream.