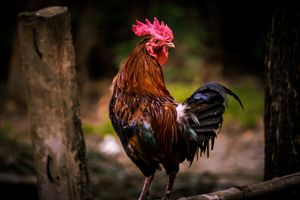 This morning's soundtrack consisted of highway noise, a stirring son, and the call of our neighbor's rooster. If you've lived near a rooster, you know he doesn't just crow once to tell you the sun is rising. He crows to tell you he's awake, and then he crows to tell you he's still awake, and he pretty much keeps crowing until he falls asleep again at dusk. 
With his call sounding off, the darkness of the morning still thick, and the sleep still in my eyes, Matthew 26 became easy to imagine. Weary Peter, trying so hard to stay by his betrayed rabbi, lashing out suddenly in complete denial of him who was called the Christ - and the rooster crows. And keeps crowing. And keeps crowing. I wonder if he was able to get away from the sound. I wonder if each crow felt like a punch to the stomach. 
Today there are more chickens in the world than any other bird. Most cultures can easily understand what Jesus means when he warns Peter about the rooster crowing.
But there's another bird in the Bible that has also become worldwide: the sparrow. And of these birds, Jesus says, "Not one of them will fall to the ground apart from your Father" (Matt. 10:29). Not even Peter. 
Let's leave the rooster with his rough, indicting song and move to some English poetry. 
The first two poems here are devotional poems with tightly constructed forms. The final one is more loosey-goosey; and some readers aware of its popularity in the 80s and 90s will possibly feel a bit sentimental about it.
I love the first one because it recounts the bitterness and depth of Good Friday. I love the second one because of its musical metaphor. I love the third one because it PREACHES. 
Good Friday
by Christina Rossetti
  
Am I a stone and not a sheep 
  That I can stand, O Christ, beneath Thy Cross, 
  To number drop by drop Thy Blood's slow loss, 
And yet not weep? 
  
Not so those women loved         
  Who with exceeding grief lamented Thee; 
  Not so fallen Peter weeping bitterly; 
Not so the thief was moved; 
  
Not so the Sun and Moon 
  Which hid their faces in a starless sky,        
A horror of great darkness at broad noon— 
  I, only I. 
  
Yet give not o'er, 
  But seek Thy sheep, true Shepherd of the flock; 
Greater than Moses, turn and look once more        
  And smite a rock.
Easter (excerpt)
by George Herbert
Rise heart; thy Lord is risen. Sing his praise 
Without delays, 
Who takes thee by the hand, that thou likewise 
With him mayst rise: 
That, as his death calcined thee to dust, 
His life may make thee gold, and much more just. 
Awake, my lute, and struggle for thy part 
With all thy art. 
The cross taught all wood to resound his name, 
Who bore the same. 
His stretched sinews taught all strings, what key 
Is best to celebrate this most high day. 
Consort both heart and lute, and twist a song 
Pleasant and long: 
Or since all music is but three parts vied 
And multiplied; 
O let thy blessed Spirit bear a part, 
And make up our defects with his sweet art.
Easter Song
by Anne Herring
Hear the bells ringing 
They're singing, that you can be born again 
Hear the bells ringing 
They're singing, "Christ is risen from the dead!" 
The angel up on the tombstone 
Said, "He has risen, just as He said 
Quickly now, go tell His disciples 
That Jesus Christ is no longer dead!" 

Joy to the world 
He has risen, hallelujah 
He's risen, hallelujah 
He's risen, hallelujah 
Hallelujah 

Hear the bells ringing 
They're singing, that you can be healed right now 
Hear the bells ringing 
They're singing, "Christ, He will reveal it now" 
The angels, they all surround us 
And they are ministering Jesus's power 
Quickly now, reach out and receive it 
For this could be your glorious hour
Keith Green delivers Anne Herring's "Easter Song" (song begins at 1:40)
Photo: Kazi Faiz Ahmed Jeem