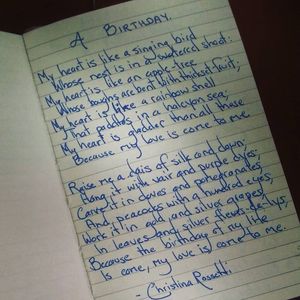 The poetry of Christina Rossetti doesn't tower like that of some others in the British tradition, but it has a pointed strength nonetheless. My eyes fell on her short "A Birthday" in early 2018. 
My heart is like a singing bird 
                  Whose nest is in a water'd shoot; 
My heart is like an apple-tree 
                  Whose boughs are bent with thickset fruit; 
My heart is like a rainbow shell 
                  That paddles in a halcyon sea; 
My heart is gladder than all these 
                  Because my love is come to me. 
Raise me a dais of silk and down; 
                  Hang it with vair and purple dyes; 
Carve it in doves and pomegranates, 
                  And peacocks with a hundred eyes; 
Work it in gold and silver grapes, 
                  In leaves and silver fleurs-de-lys; 
Because the birthday of my life 
                  Is come, my love is come to me.
You get the idea that there is someone so special to the poet that real life seems to begin when that person is present. Or, in a deeper sense, life begins when these two realize and acknowledge their mutual love, as happens to couples when a woman not only knows which man she loves, but knows he loves her back. 
I don't know whom Christina Rossetti had in mind when she penned these words, but I know whom I think of. The Lord came to me when I was twelve, and my life, in a good way, has never been the same. 
So last year for my birthday I recited this poem for friends. This year, I sang it to a melody in 3/4 time. I don't know if anyone else noticed, but the song took on the feeling of a processional. (Can processionals be in 3/4 time?) The poem may be called "A Birthday," but it makes me think of a wedding. And, indeed, birthdays, weddings, and salvation are all doorways to new life. When I sing this poem, my soul rejoices in what has already and definitively happened; but it also looks forward to the day salvation will be complete and the bride of Christ ready, pure, and incandescently happy. 
As for the song - many public songs started as living room songs. But other songs live a happy life staying as living room songs. My little birthday song might fall into the latter category. We'll see.